Kelley Prebil was born and raised on the San Francisco Peninsula and always had an interest in both science and art thanks to her mother exposing her to various activites and museums. The California Academy of Sciences was always a favorite and helped nurture her love of the sciences.
Her college education led to her exploring a wide variety of topics and eventually settled on getting a degree in fine arts / photography from Cornell University in May 1999. After being laid off during the "dot com bomb", Kelley decided to make the most of a grim economic situation and took advantage of San Francisco State University's second baccalaureate degree program to earn a BS in Physics with a minor in Mathematics. Upon graduation, a chance meeting with a professional recruiter led her to her first Database Administrator job at Gensler. She was already well-versed in the teachings of Edgar Codd and database theory and design and had wanted to explore the field more. She loves the ever fluid and expanding field of database development and administration as it constantly presents new challenges to keep her brain stimulated and engaged.
Not satisfied with just two bachelor degrees, she decided while working at Gensler to take advantage of Boston University's online program to earn her Master of Science in Computer Information Systems with a concentration in Database and Knowledge Management while working full-time. Completing a Master's degree while working as a Database Administrator full-time taught her how to maximize her time efficiency and focus on making database processes more automated and streamlined.
She has worked in a wide variety of industries during her 14+ year career as a DBA. She grew a lot professionally and personally during her time at Panda Restaurant Group, who put a strong emphasis on both. Even though she had moved to SoCal for Panda, they helped her start being true to herself that she missed the Bay Area too much. She had to make the difficult decision to leave a job and company she loved for her emotional health of returning to her beloved San Francisco. She loves collaborating with other database administrators and teams so they can build off of each other's strengths. She is the kind of DBA that is never satisfied doing the same thing every day and always wants to keep learning and contributing. Her primary goals as a DBA are to reduce (human) errors and the time it takes to troubleshoot a process along with creating reusable code. Failure to plan is planning to fail!
Outside of her professional career, she is very active in the community. She volunteers with several non-profits such as working as the webmaster and Swim Commissioner for the South End Rowing Club, the oldest swimming and rowing club in San Francisco, official swim observer for the Catalina Channel Swimming Federation and Lake Tahoe Marathon Swimming Federation, and Stewardship Director for the Western Cave Conservancy. She was honored with the staff-nominated position of Ambassador for the Stanford Blood Center in 2017. Kelley was inspired to overcome her fear of needles and donate platelets weekly after living through the struggles of her uncle's leukemia fight. She is also an avid supporter of Be The Match, the national bone marrow registry that helped add 2 years to her uncle's life before succumbing to the disease in October 2015. Her policy is that if she can help an organization whose mission she strongly believes in, she will do whatever she can to help them.
Two major surgeries in 2011 and 2012 created a fire in her to push her physical limits that has not burned out. She was a competitive swimmer in high school and returned to the water in 2012. She tried open water swimming after being urged by a couple of friends and quickly fell in love with it in August 2013. In January 2014, she took her first jump in the San Francisco Bay after thinking only crazy people do that. However, seeing the Golden Gate Bridge and her beloved San Francisco from the water was a magical sight and feeling that she never let go. On 20 September 2014, she completed her first channel crossing by swimming the 12.4 miles from Anacapa Island to Oxnard in 10 hours 25 minutes. Two years after her first open water swim, she successfully swam the 20.2 miles from Catalina Island to the Mainland in 17 hours 25 minutes on 15 August 2015. The Catalina Channel is considered one of the 7 hardest channel swims in the world on par with the English Channel. She learned in her Catalina swim that she was not a quitter as despite strong Eastward currents that added almost 3 hours to her swim and a incredible painful pinched shoulder halfway through, she never thought once about ending her swim until she cleared the water on the mainland. Several fellow marathon swimmers, including those who successfully swam from the Farallones to San Francisco, congratulated her stating that they couldn't have done what she did that day. She continues open water / marathon swimming with several other marathon swims plans in her future.
She also took up road cycling in November 2014 which quickly became a love affair. Her fourth ride was Mt. Tam and her ninth ride was Mt. Diablo, two of the three highest peaks in the Bay Area. She has organized several rids with her SheSpoke Cycling, the first all-women's cycling club based in San Francisco, and NorCal Velo, a cycling club based in Santa Rosa. She completed her first 100+ mile ride at the 2015 Marin Century after riding for less than 9 months. She became a Randonneur in 2019 and quickly completed several 200K and her first 300K ride that same year. Randonneuring is amateur endurance cycling of rides between 200K and 600K that are entirely self-supported with Controls (checkpoints) along the way that are used to verify the cyclist completed the route. Several of her fellow Randonneurs go on to complete the annual Audax Club Parisien 1200K Paris-Brest-Paris ride (also self-supported), which several of the RUSA rides are qualifier rides. She's hoping to complete her first 400K in 2020. Cycling has taught her that anyone can do any ride and climb any hill, some just take longer than others to get the the top so do not stop.
She can usually be found swimming in the waters of San Francisco Bay, Lake Tahoe, Monterey Bay, or Laguna Beach or on her bike climbing a lot of Bay Area hills on one of her bikes. That is, of course, when she's not working at her childhood dream employer of the California Academy of Sciences as a Database Administrator.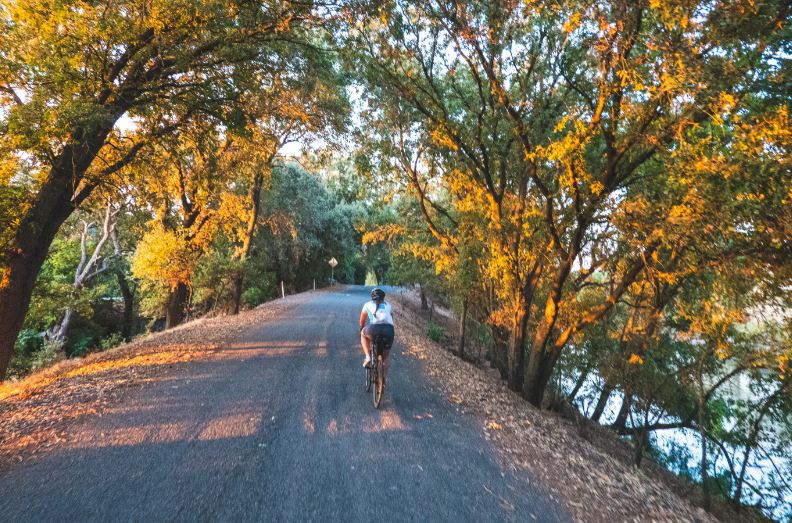 Riding somewhere just south of Clarksburg, California on her first 300K ride. Photo by Brian Feinberg.